Add Comment |
Related Links |
TrackBack

Related Content
Nook HD Android Emulator Won't Start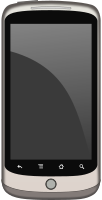 I had a strange problem where the newly created Nook HD Android emulator won't start today. After launching it from the Android Virtual Device (AVD) Manager, the emulator screen is just blank; no Android logo or anything.
At first, I thought it just needed a long time to start. But after waiting four hours, I decided that's not the case. Windows Event Viewer did not show any related errors. So I was a little baffled.
Finally, after spending a lot of time adjusting setting and trying to launch it, it finally launched. The following setting worked for me.
Device: Nook HD (900 x 1440:hdpi)
Target: Android 4.0.3 - API Level 15
CPU/ABI: ARM (armeabi-v7a)
Keyboard: Hardware keyboard present: checked
Skin: No skin
Front Camera: None
Back Camera: None
Memory Option: RAM: 1024 VM Heap: 32
Internal Storage: 128 MiB
SD Card: Size: 128 MiB
Snapshot: unchecked
Use Host GPU: checked
Seems that the "Use Host GPU" being disabled is what kept it from working. Maybe that has something to do with the Nvidia GeForce GTX 660M and the Intel HD Graphics 4000 in my Asus G46VW gaming laptop.
Mel
Thu, 08 Oct 2015 13:48:47 +0400
Add Comment |
Related Links |
TrackBack

Related Content
Did your message disappear? Read the Forums FAQ.
Spam Control | * indicates required field
TrackBack only accepted from WebSite-X Suite web sites. Do not submit TrackBacks from other sites.
Send Ping | TrackBack URL | Spam Control
No TrackBacks yet. TrackBack can be used to link this thread to your weblog, or link your weblog to this thread. In addition, TrackBack can be used as a form of remote commenting. Rather than posting the comment directly on this thread, you can posts it on your own weblog. Then have your weblog sends a TrackBack ping to the TrackBack URL, so that your post would show up here.
Messages, files, and images copyright by respective owners.