Add Comment |
Related Links |
TrackBack

Related Content
Guess the Number
"Guess the Number" is a YouOS game that challenges the player to deduce a number between 1 and 100. The game involves a little bit of luck and a little bit of skill. It allows competition among YouOS users based on who could guess the number with the least amount of turns. The top 10 players are listed on the high score list. The player that guesses the number on the first turn resets the score board.
To play the game, log onto YouOS (you can register for a free account if you don't already have one), and look for Guess the Number under "Add/Remove Apps".
Attached Image: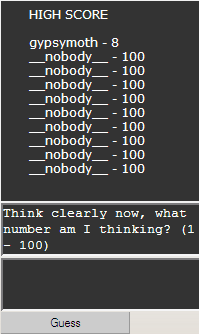 Guess the Number Screen Shot.png
Chieh Cheng
Wed, 22 Mar 2006 01:46:06 -0800
Add Comment |
Related Links |
TrackBack

Related Content
Did your message disappear? Read the Forums FAQ.
Spam Control | * indicates required field
TrackBack only accepted from WebSite-X Suite web sites. Do not submit TrackBacks from other sites.
Send Ping | TrackBack URL | Spam Control
No TrackBacks yet. TrackBack can be used to link this thread to your weblog, or link your weblog to this thread. In addition, TrackBack can be used as a form of remote commenting. Rather than posting the comment directly on this thread, you can posts it on your own weblog. Then have your weblog sends a TrackBack ping to the TrackBack URL, so that your post would show up here.
Messages, files, and images copyright by respective owners.